Maia Ferrand, head of external multimanagement at Candriam discusses how the Démos (Dispositif d'éducation musicale et orchestrale à vocation sociale) project, a musical and orchestral education outreach program aimed at young people from economically deprived or rural areas throughout France, is having a positive impact on the lives of more than 100 children.
The appeal of Démos
Maia first became aware of Démos when Candriam launched its Private Equity Impact Funds. The Candriam team spent considerable time on the ground talking to mission-driven entrepreneurs, foundations and financial institutions about various projects.
"Démos appeared to be a very successful project that empowers children through music," she explains. "I also had the good fortune to attend one of their concerts and I was very moved by how involved both the children and the parents were in the project. Because Démos had already proven itself by supporting more than 6,000 children over a 10-year period, I thought the project could achieve even more with the support of the Candriam Institute for Sustainable Development."
Numerous studies over the years have underscored the universal appeal of music as something that can be enjoyed by everyone regardless of culture, age or socioeconomic status. When the famous academician Edward Saïd created the West–Eastern Divan Orchestra1 with Daniel Barenboim, he said that "music allows us to bridge the distance that is not of our making, but of history's, and that the identity of everyone, when it is musical, can play with those of others through a universal language."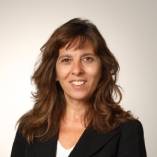 Using music as a way to foster inclusivity and build self-esteem
Maia was struck by the way that music can be used to bring down barriers between people. "While each individual in the project is responsible for their own instrument, only by working together can those individuals create an orchestra. Démos fosters this connectivity among people and in so doing, teaches them to accept one another. It is the embodiment of the Institute's philosophy of social inclusion."
Children spend three years attending classes through the Démos project. At the end of that time, each child goes on to play with their orchestra at the Philharmonie de Paris. Maia highlights that it is not just the children themselves who benefit from this experience but their wider circle of parents, siblings and friends also get to share in these moments of self-esteem.
Démos now has an eye on broadening the number of children and families in the project. They are also planning a second orchestra for the children and would like to see the program gain official certification so that it can be an acknowledged part of the students' curriculum.
---
1 The West–Eastern Divan Orchestra is an orchestra based in Seville, Spain, consisting of musicians from countries in the Middle East, of Egyptian, Iranian, Israeli, Jordanian, Lebanese, Palestinian, Syrian and Spanish background.